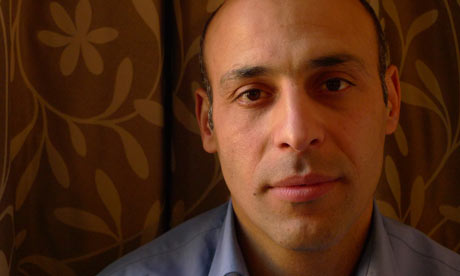 Farid Hilali says the torture he suffered a decade ago still haunts him today. He remembers the sound of the devhice used to give him electric shocks – only the sound, as his captors kept him hooded and handcuffed while currents were passed through his body. "It's very painful, the current hits you hard, you feel your heart is coming out."

His demeanour is quiet, but he becomes more agitated as he speaks of the torture he allegedly suffered for four months, first in the United Arab Emirates and then in Morocco.

Hilali is living in Madrid after being extradited to Spain from Britain in 2008 for alleged terrorism offences.

In March he was freed on bail as the Spanish case against him began to crumble. The bail order has allowed him to speak publicly about his alleged ordeal for the first time and describe his life in legal limbo.

His story, though hard to corroborate, bears all the hallmarks of the methods used to extract information through torture, and Britain's alleged complicity in it. He says the UK's alleged collusion in his torture took place in 1999, much earlier than the alleged policy was thought to have started, and two years before the "war on terror" was declared by George Bush.

Hilali was born in Morocco in 1969 but left the country aged 20 to join his brother, who was living in Elephant and Castle, south London.

Hilali worked illegally in menial jobs and became more interested in the Muslim faith. Among the mosques he attended one was in Baker Street where Abu Qatada preached. Hilali says he never met the radical cleric and has never believed in violence. But Hilali's attendance at those sermons did not go unnoticed by the security services.

He went on the hajj religious pilgrimage to Saudi Arabia in 1999 and on his return passed through the UAE, where he was detained. That much is verifiable; he still has a document that proves he was in police detention there on 21 June 1999.

According to Hilali, the interrogation took place in the city of Sharjah, with the beatings beginning straight after his arrest. He says he was placed in a solitary underground cell, his feet and hands shackled.

The questioning struck Hilali as odd, because his interrogators from the UAE asked mainly about alleged extremists in London, beating him at frequent intervals.

The alleged abuse continued on and off for a week and he believes it was a softening up process for his interview by the British.

Hilali says he was taken, after a week, to a room where a tall white man was waiting for him. Hilali says: "[The man] said, 'I represent the British government, we know everything about you … I came all the way from London to ask you certain questions."

Hilali says he showed the alleged British agent the bleeding wounds he had suffered and asked to be rescued from the torture he was enduring.

"I told him they had been torturing me. He wasn't interested."

Instead the man told Hilali, who was kept in leg shackles, that he was in deep trouble and the only way out was to co-operate, he claims.

Hilali says he was shown pictures taken in London of alleged Islamist extremists and asked for information. These pictures included Qatada and Abu Hamza, the former cleric at the Finsbury Park mosque in north London. Hilali says he knew neither of the extremists.

The UK agent produced a picture of Hilali leavving a London mosque.

Hilali insisted then, and still insists, that he had no connection to extremism and terrorism.

But his denials allegedly only made the British agent angry. "He said, 'you're bullshitting me'," Hilali recalls.

Then he says the agent and the UAE officials left the room, and he could hear the British agent shouting and swearing. The UAE guards returned to the room, and shouted threats: "They said, 'you have to answer his questions, otherwise we will kill you, rape you'."

Hilali alleges the UK agent had been barely two metres away when the death threats were shouted at him. "He could hear it, definitely, they were shouting [the threats] and the room was quiet." The agent did not remonstrate with the UAE officials, but resumed his questioning.

Hilali says the agent told him: "People like you don't deserve justice, democracy or human rights." The agent left after half an hour; he says, and barely a minute after his departure the beatings resumed.

Days later Hilali says he was moved to a secret prison in Abu Dhabi. There he was subjected to even worse torture, he claims, including five sessions of electric shocks.

Then in October 1999 he was sent to Morocco where his 22 days of torture ended after he signed a piece of paper agreeing to be an informant.

Once released from Morocco he fled to Britain where his brother and sister still lived, and he found work dealing in antiques in south-east London. In 2003 he applied for asylum and mentioned as part of his case his torture in the UAE and Morocco and the involvement of Britain's secret service.

He was arrested by British police for alleged terrorism, but during his detention Hilali says he was not asked about a single specific offence. After several days he was transferred to immigration detention and told he would be deported as a threat to national security. Then in 2004 Spain applied for his extradition, accusing Hilali of involvement in the plot to attack the US in September 2001.

He was sent to Spain by Britain in 2008 under the new European extradition warrant, for which no proof was needed.

Hilali denies the allegation that he was involved in the 9/11 attack.

America's official 9/11 report appears to back Hilali's claim and knock down Spain's allegations that individuals based in Spain were involved in the plot. On page 530 of its report, the 9/11 Commission concludes: "We have not found evidence that individuals in Spain participated … in the 9/11 plot."

After Hilali's release on bail in March, he was immediately issued with a deportation notice. He says Spain broke assurances given to the UK that Britain's explicit permission would be needed before he was deported to another country.

He fears being sent to Morocco and experiencing a fresh round of torture. He now lives in the Spanish capital, unable to work and in a legal limbo.

In a statement, the Foreign Office says: "We take all allegations about UK intelligence and security agencies' involvement in mistreatment of detainees very seriously and investigate them thoroughly."

The British government says Hilali had raised the torture claims during his 2006 extradition hearing, and they had investigated them: "As far as we are aware there is no truth in Mr Hilali's allegations."

The Foreign Office declines to say who carried out the investigation or who was interviewed, or to release a copy of any report. Hilali says he was not interviewed as part of any government inquiry into torture allegations. As does Moazzam Begg.

Begg is best known as a former Guantánamo Bay inmate who was released without charge. He and Hilali knew each other after meeting at a London mosque and Hilali wrote to him asking for help after his detention in the UAE.

It appears MI5 tracked the letter and Begg says an MI5 agent visited him at home in Birmingham in the summer of 1999 to question him about Hilali. This incident would appear to show the security services were investigating Hilali and had intercepted the letter he had sent. Later Hilali would be questioned by interrogators in the UAE over what he knew about Begg.

Speaking to the Guardian about the MI5 visit, Begg says he can still recognise the British agent whom he says introduced himself as "Andrew", and who was accompanied by a police officer from the West Midlands force. The agent said that he knew Hilali was being detained in the UAE.

Begg says: "They asked me how I knew him. They said they were confident and happy that he would not be returning to the UK. I took that to mean they are somehow involved in him being held, and there is a link between them and the UAE holding him."

Begg says he told the MI5 agent about the torture Hilali claims to have suffered: "I explained that he had been tortured. He said that was not their concern."



SOURCE: The Guardian